Etapas importantes
Cacabelos - La Portela de Valcarce: A beautiful stage that takes us from the banks of the Cúa to the Valcarce. With some unevenness to the exit of Cacabelos, and with the possibility of being able to have lunch in the villa of Villafranca del Bierzo and to see some of its monuments. From here only 12 km to La Portela, all flat for a beautiful spot next to the river Valcarce. Obligatory stop in La Portela for those who want a good rest, before undertaking the ascent to O Cebreiro. The complete stage is 21.8 km, very balanced for any type of hiker. There are even people who dare from Ponferrada, are about 36 km and is a stage suitable for expert people.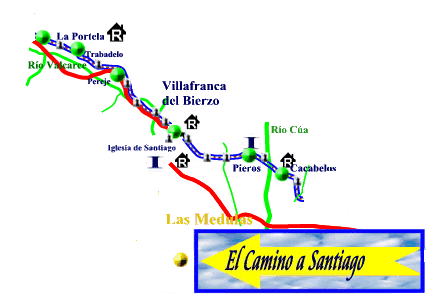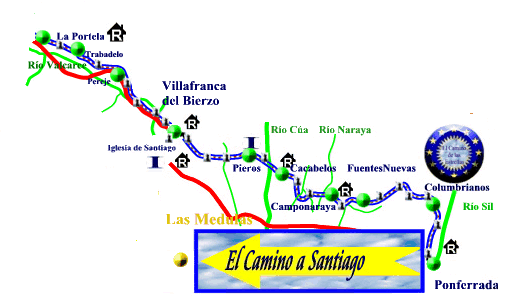 La Portela de Valcarce - O Cebreiro: Possibly one of the toughest stages of the entire road to Santiago. That's why we cut it only 14.5 km for people who do not want to overdo it and who wants to rest in the town of O Cebreiro. The stage is one of the most beautiful, especially in the final ascent to Cebreiro, which are the last 7 km. For more prepared people, you can reach Fonfría del Camino, which stage would be 28.7 km, and From O Cebreiro to Fonfría it is not very hard anymore.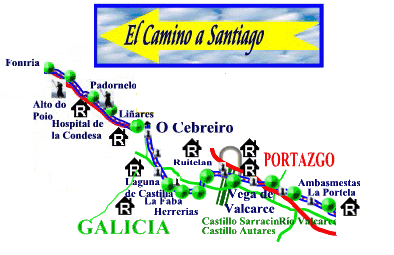 Villafranca del Bierzo - Cebreiro Or: Sure Step recommend more, but at the same time that produces more physical problems the pilgrims as they touch up to Or Cebreiro after 22 kms. And yet, those who want to do so, we recommend that the lunch they realize in Wear of Valcarce, since closer the climb is not recommended, since the effort can produce cuts digestion. We recommend this step if they make a lunch tray with a combined pulp, in order to attack the port with more forces. Ponferrada since it is too hard and not very recommendable.